Business License Tax Compliance Assistance Program (CAP) 2019
Section 6.04 of the Santa Monica Municipal Code requires that every business operating in the City register for a business license and pay applicable tax.
Beginning June 3, 2019, the City is offering a temporary program designed to help unlicensed individuals and businesses. The Business License Tax Compliance Assistance Program (CAP) encourages those who have not yet filed for a business license, regardless of how many years they have been in operations, to come forward voluntarily and become compliant. In exchange, the City will offer a significant incentive: 90% waiver of any penalties assessed. Any individual or business who meets the eligibility criteria under CAP can participate, regardless of the reason for non-compliance. See Eligibility section below.
Don't wait – this is a limited time offer! On July 12, 2019, at the conclusion of this program, the City will resume standard enforcement, including actively canvassing, to locate unlicensed businesses. Non-compliant businesses are subject to administrative citation, full penalties, and possible criminal prosecution.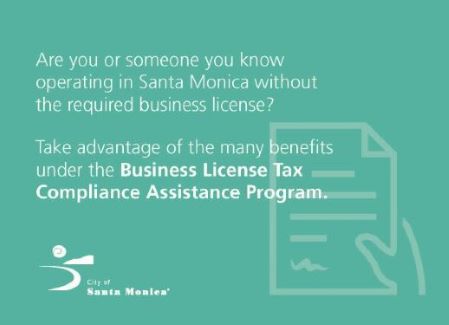 Eligibility
To qualify for the program, the following requirements must be met:
Must be physically located within Santa Monica
Individual or business has not applied for a Santa Monica business license in the past
Compliance with the terms of the program and a signed CAP Acknowledgement form
Please note: If you filed an application but did not pay in full, you are not eligible for this program.
How to Participate
Apply and Sign the CAP Acknowledgement Form - Download the appropriate business license application.
To qualify for this program, eligible participants will be required to read, sign, and return the CAP Acknowledgement form. This ensures that participants have read and agreed to comply with the terms of this program.
Complete and submit the application packet to the City by mail, email or dropped off in-person.
Please note, mailed application packets must be postmarked no later than July 12, 2019 deadline.
Wait to Hear from Us - Our office will contact you once we have processed your application.
We will review your application to determine if you are eligible and to verify we have all of the information needed.
Complete Your Payment - Submit payment for any taxes, fees, assessments, and penalties due by the date provided on your invoice. Debts left unpaid after 30 days will no longer be eligible to participate in this program.
If your application requires additional approvals, it will be routed to the appropriate departments.
Look for Your Business License Certificate in the Mail -

Once our office receives all the appropriate approvals, your business license certificate will be mailed to you.
You will be required to renew and pay for this license annually, for as long as your business is operating in Santa Monica. The next renewal will be due July 1st.